high in the Valle dei Mulini, past lemon groves, and into the town of Amalfi.
This is not a traditional travel video.
The television camera is constantly moving you forward, transporting the viewer
through the center of Amalfi on a spring afternoon.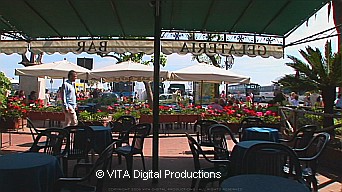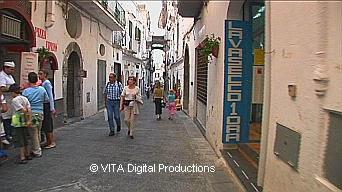 This DVD makes "European travel" easy! No bags to pack - no long flights.
The 30 minute walk comes with a choice of two different stereo soundtracks (
both are included on the DVD
).
You may choose the lively, upbeat music suitable for a good cardio workout on your treadmill, or
for a true virtual walk, you may choose to hear the natural sounds as they were recorded on site in Italy.
---
Exercising has never been easier or more enjoyable!

And these videos are so rich in details
that you will notice something new every time you view them.

But you don't have to have an exercise bike or treadmill
to enjoy this DVD.

It also makes the perfect gift
for people who want to experience Amalfi in a totally unique way:
a way not possible with traditional travel videos.
What a wonderful reminder this could be of your own trip to Italy!
---

A Description of the Walk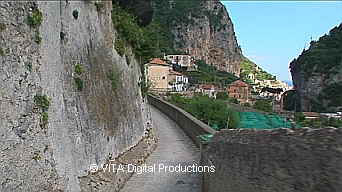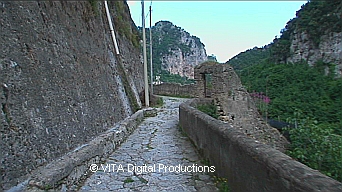 Your walk begins high in the Valle dei Mulini, the famous "Valley of the Paper Mills"
overlooking Amalfi and the Mediterranean.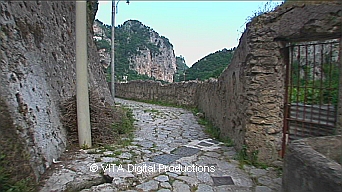 As the old stone walkway curves gently and sweeps downhill, you pass lemon groves
whose trees are heavy with their enormous ripe lemons.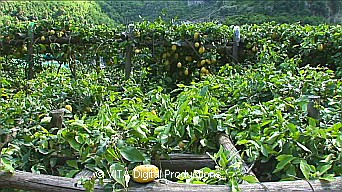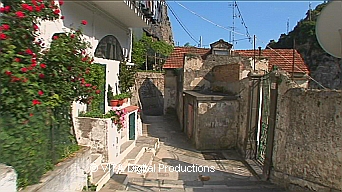 Many of the extremely large lemons will be transformed into limoncello -
the sweet lemon liqueur famous along the Amalfi Coast,
usually served in a frozen glass after dinner.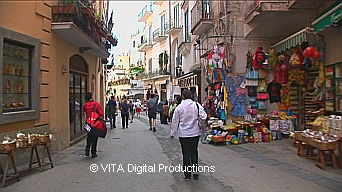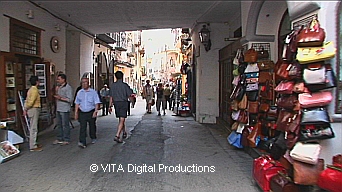 Soon you enter Amalfi itself, walking along the Via Capuano,
and pass the many shops filled with day tourists.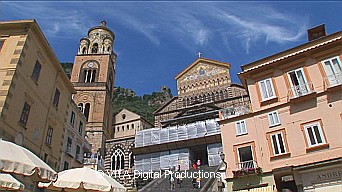 The street changes names to become the Via Lorenzo & Amalfi
and you enter the Piazza Duomo and pass outdoor cafes.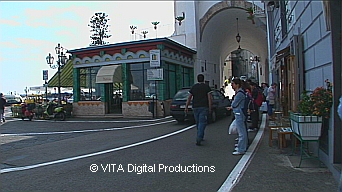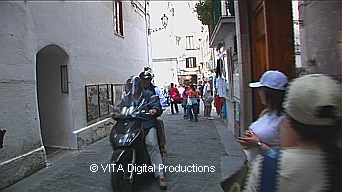 Passing through the Porta della Marina, you cross the
Piazza Flavio Gionia and dodge the busy traffic.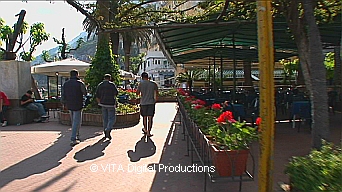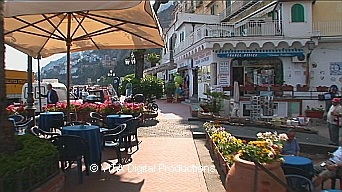 Passing more outdoor restaurants and gelato shops,
you walk along the Via Lungomare dei Cavalleri
as it parallels the coast.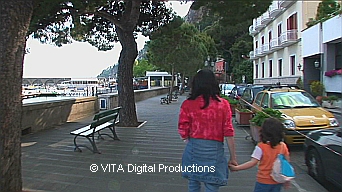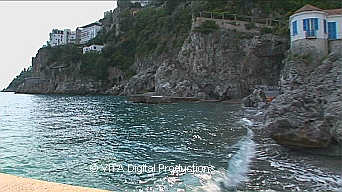 Your 30 minute Amalfi walk ends as you reach a small beach.
You'll enjoy this 30 minute walk either with the lively, upbeat music
or with the natural sounds recorded on site as this video was made.
Both soundtracks are included on the DVD!


BONUS CHAPTER:



A separate 16 minute mini-documentary on the Amalfi area is also included on the DVD!




Leaving Sorrento on a jet boat for a day in Amalfi, you return on the autobus along the
thrilling and scenic Amalfi Coast Drive.



---



And remember, this DVD makes a unique gift for family and friends!




---


<!++++++++++++++++++++++++++ start - bottom MODULE 11-1-06 ++++++++++++++++++++++>

PURCHASE THIS OR OUR OTHER DVDs HERE!
---

Note: We are VITA Digital Productions and we are selling these DVDs and Videotapes.
We filmed all of the video footage used in this program, we edited it,
we have licensed the rights to the music used in this production,
and we own the copyright to this program.

The DVD you will receive is a "burned" DVD which was duplicated in our studio.
It contains an interactive menu and will play on DVD players and computers.

The VHS Videotape you will receive contains both soundtracks and mini doc and was duplicated in our studio.

All of the above photos are actual still frames from the walk.


---
These unique Virtual Walks also make the perfect gift for family and friends.
More Virtual Walks are Coming Soon:
A Walk in Ancient Pompeii
A Walk on the Islands of Murano and Torcello
A Walk on the Hampstead Heath in London
A Walk around Salisbury Cathedral
A Walk on the Isle of Capri
A Walk in the Medieval Town of Viterbo - north of Rome
- About Us -
Kathi and I established VITA Digital Productions in 2000 with one idea in mind: to produce our own
high-quality
specialty market European Travel Videos. Our original concept was to film Virtual Walks through some of Europe's most beautiful cities. Using Steadicam
TM
camera stabilization equipment, we are able to film these virtual walks while actually walking through streets, up steps, around corners, while the camera seems to float.
Our Virtual Walk videos and DVDs are designed to be watched by people while exercising on their treadmill, Nordic Track, TreadClimber, Elliptical Trainer, Stepper, Stair Climber, or stationary exercise bike. Our hope was to make the time spent exercising fun and interesting by viewing our Treadmill Virtual Walks while getting a good cardio workout.
Kathi and I believed that these Virtual Walk DVDs could motivate people to utilize their exercise equipment more frequently by providing them with interesting video and audio to view while exercising. But you never know if an idea that sounds reasonable to you will actually be accepted by others - you just have to hope it will. With that in mind, Kathi and I proceeded to file the articles of incorporation with our state and we also started investigating what equipment to purchase for our new company.
With my 25 year background in television production and with our newly purchased professional equipment, Kathi and I flew to Venice in April of 2001 for our first shoot. Awake and on the streets by 7 AM most days, we not only shot our virtual walks but we also shot more traditional travel video footage using a tripod.
Our plan was to sell this traditional footage in a series of videos which we would call
Europe Travel Videos.
Both series were to be sold by websites on the Internet. We shot Treadmill Virtual Walks through the crowded streets and alleyways of Venice, and on the nearby islands of Burano, Murano, and Torcello. Kathi and I had chosen Venice to be our first project because of our love of the city and its unique locale - and because I had proposed to Kathi here in 1999. Our second trip to Venice did not disappoint us - it is truly a magic city. Leaving Venice exhausted after 10 days of shooting, we flew home and rested.
A month later we flew to London to shoot for 2 weeks. Kathi had booked a converted carriage house on the outskirts of London for our stay. It was perfect for our needs - a large bedroom with flower bedecked balcony upstairs and a full kitchen downstairs.
I had promised Kathi we wouldn't work as hard as we had in Venice. I promised her that any days it rained would be our "rest" days. It didn't rain a single day during the two weeks we were in London!
We had the singular opportunity to film the Queen's arrival at Royal Ascot. And since Royal Ascot is noted for ladies wearing outrageous hats, our hosts at the carriage house loaned Kathi a hat suitable for the occasion. And we did film more Virtual Walks in and around London, including delighful walks in Hyde Park, along the waterway known as Little Venice, the New River Walk in Islington, and a walk on the Hampstead Heath.
Leaving London exhausted, we flew directly to Rome and fourteen more days of no rain!
But we were in incredible Rome - the eternal city.
We quickly discovered that Rome is a very difficult city for a videographer. Crowds and other problems make videography a challenge. Eventually we realized that getting to a poplular tourist site around 7 AM each morning was the best way to work. We were able to shoot virtual walks along the famous Via Veneto, made famous by "La Dolce Vita," another walk through the Campo de Fiori, and still another through the beautiful Pincio Gardens of Rome.
Taking a bus to the outskirts of the city one day, we shot a virtual walk on the ancient Via Appia - which was a delight because it looks exactly like you would expect it to look. Here's a picture of Kathi resting on the Appian Way.
Returning home after 4 weeks of filming, we received a call from a film editor friend in L.A. He was editing a movie and needed some night scenes of Rome. Would we sell some of our night footage to his production company?
We realized that we had over 80 hours of video which could be sold to production houses as "stock footage." Today, we have sold our
European stock footage
to a number of tv networks in the US and around the world and our
Treadmill Virtual Walk DVDs
have been sold to 49 states and 5 foreign countries.
September 11, 2001, affected us deeply on many levels. We temporarily suspended international travel - our steadicam equipment, batteries, and other tv equipment were just too unusual for the heightened security which was in place. In addition, we always traveled with our tv equipment in our carry on bags - we couldn't afford for the equipment to be damaged or to be lost. So for a few years, our focus was on other aspects of television production. I was asked to film the "Behind the Scenes" and cast interviews featurettes for two motion pictures shot in our state along with other tv projects.
In October of 2003, Kathi and I returned to the United Kingdom to film more virtual walks and more stock footage. This time we filmed virtual walks in the English Countryside: a walk from Eynsford to the village of Shoreham, following the Darent River in Kent. We also filmed a circular walk from the village of Otford through some beautiful scenery and back to our starting point. Along the way, we met some lovely people and had a nice chat. We traveled to Dover and to Brighton to film stock footage and also to Salisbury to film a virtual walk in the area around the Cathedral. In Salisbury we had the opportunity to see one of the surviving copies of the Magna Carta. We also went to Canterbury Cathedral and attended "Evensong."
Finally, in August of 2004, Kathi and I finally found time to edit our first virtual walk, "A Morning in Venice," and get it on the market. We were amazed at the positive reaction it received. Customers said: "Why hasn't someone thought of this before?" and "It's just like being there!" and "I want more." We were very gratified with the reaction to our initial concept formed back in the summer of 2000. We quickly followed with virtual walks in the English Countryside, Rome, along the Appian Way, London Waterways, and Burano. Since then, we've received hundreds of emails from our Treadmill Virtual Walk customers telling us how much they enjoy exercising on their treadmills and exercise bikes with our Virtual Walk DVDs.
In June of 2005, we returned from three weeks filming, this time in High Definition ( 1080i ) and widescreen, more Treadmill Virtual Walks along the beautiful Amalfi Coast, on the isle of Capri, in the ancient city of Pompeii, and in the medieval town of Viterbo, north of Rome. We are currently in the process of editing those walks and they will be available in the coming months.
Presently, Kathi and I are in the planning stages for our future shooting trips. This year we will make trips to Hawaii, the Cotswolds, and Paris to shoot both virtual walks and stock footage. Then in 2007, we are planning a trip to northern Italy to film virtual walks in Tuscany, Siena, and Florence.
There is a surprising amount of work involved in filming these Virtual Walks in Europe, from dealing with heavy equipment to walking miles to some out-of-the-way location just to begin filming. But our customers love them and constantly ask for more - so that makes it all worthwhile.